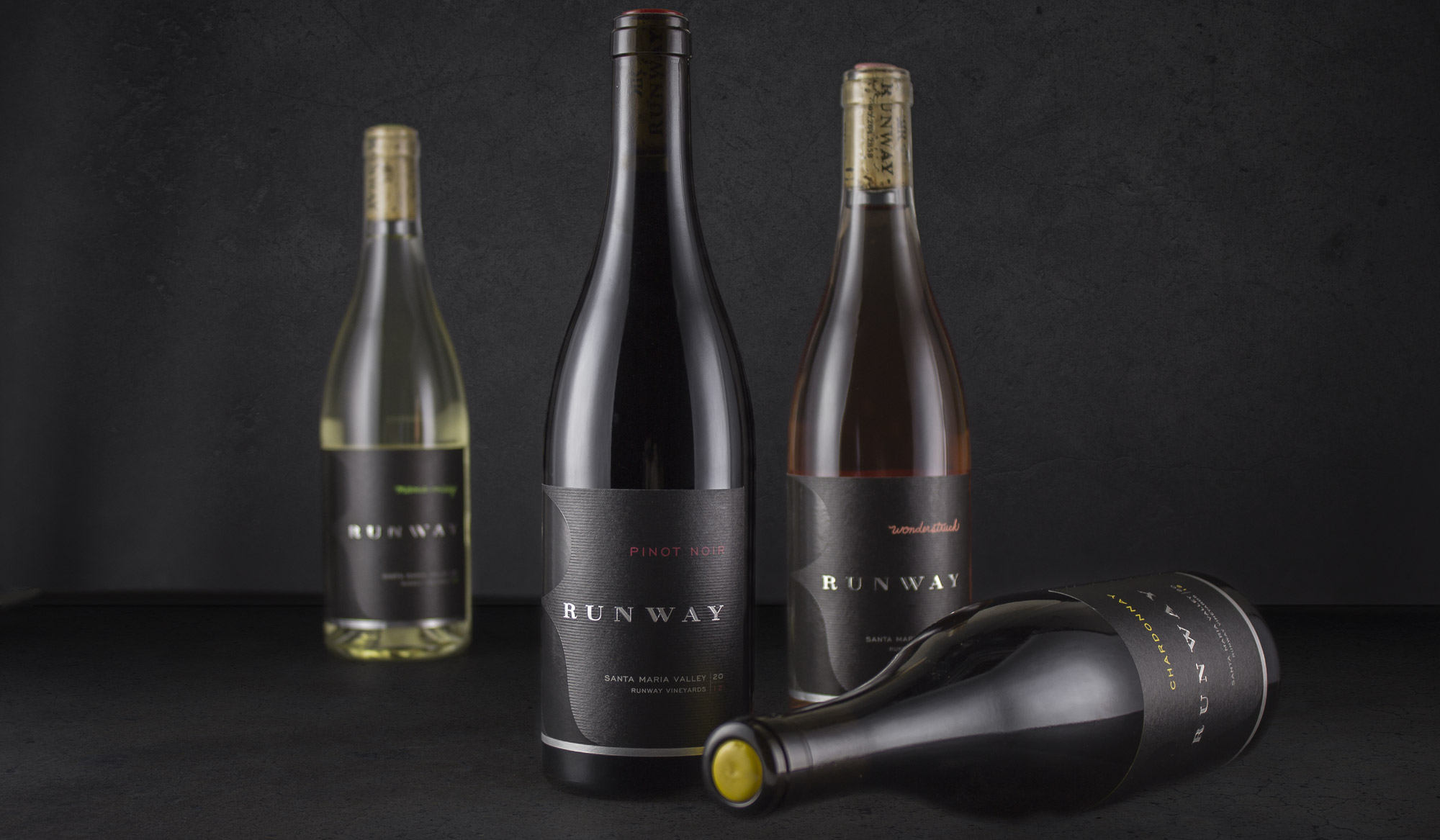 Our Wines

2013 Chardonnay
Runway Vineyards
Santa Maria Valley
The fruit was beautifully sun kissed when it was pressed immediately after pick time; producing a bright gold elegant presentation and a nose that goes long with ripe pineapple and vanilla bean with a hint of toast complimenting the full balanced texture which carries the cream of tangerine flavor with a hint off nuttiness in the end.

2013 Pinot Noir
Runway Vineyards
Santa Maria Valley
Santa Maria Valley at its full potential in this Runway Pinot Noir. The Vineyard Consistently producing deep rich complexity yet maintaining its finesse. A sophisticated aroma of forest covered in stone and berries with a silky texture carrying flavors that also consist of pomegranate and sea salt dark chocolate leaving a rich long finish.

2014 Ma Cherie Chardonnay
Runway Vineyards
Santa Maria Valley
Runway's Ma Cherie is introduced with an irresistible complex aroma of spring garden. This stainless steel fermented Chardonnay was inspired by the vineyards great natural acidity which was captured in a temperature controlled fermentation then aged in neutral oak creating intense smooth mouth feel with flavors of green apple and key lime pie.

2015 Landing Strip Rosé of Pinot Noir
Runway Vineyards
Santa Maria Valley
The purity of Runway Rosé comes from specific rows in the vineyard selected solely for Rosé in order to express Runway's terroir with elegant aromas of fresh strawberries and ocean breeze wrapping the palate with powerful yet gentle juicy flavors of ruby red grapefruit and sweet stone.
2015 Madeline Grace Pinot Gris
Runway Vineyards
Santa Maria Valley
2015 Madeline Grace Pinot Gris came early at Runway but left nothing behind, a powerful floral nose plays with aromas of fresh honeydew lifted by its clean minerality. The low temperature fermentation captured fresh bright flavors of kiwi and subtle ripe flavors of lemon zest that leave a clean and crisp long finish.